9 items tagged "Education"
Results 1 - 9 of 9
Category: ThemeXpert
Created on Tuesday, 27 October 2015 16:04
Metheno is the best selling educational Joomla template, outfitted with a professional, artistic and sophisticated design. Integrated with versatile extensions accessibility and provides infinite customizability.
Category: ThemeXpert
Created on Wednesday, 21 October 2015 15:46
Focus is an exciting Joomla template brings the perfect blend of content and design with variety of pages and style variations, perfect for schools, colleges, and universities to have a dignified, respectable website.
Category: CreativeMarket
Created on Wednesday, 21 October 2015 10:10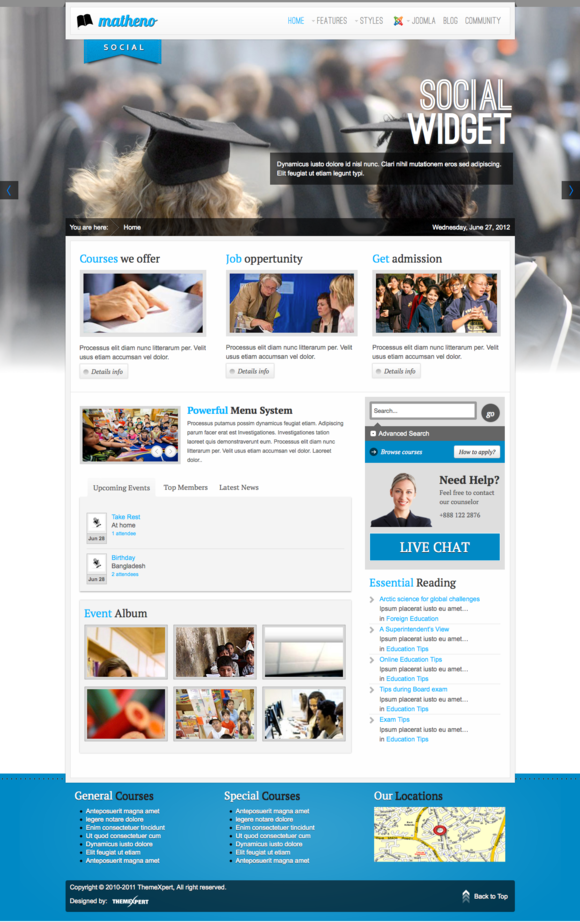 Matheno is the best match for your educational or school/institute's website built with Joomla!. Designed with an educational touch in mind, this theme will perfectly suite for Joomla! websites of University, College, Training Center etc. You can also create your own online educational website and build a community around it. Matheno will serve the best design your educational website needs to have for Joomla!
Category: CreativeMarket
Created on Saturday, 17 October 2015 23:45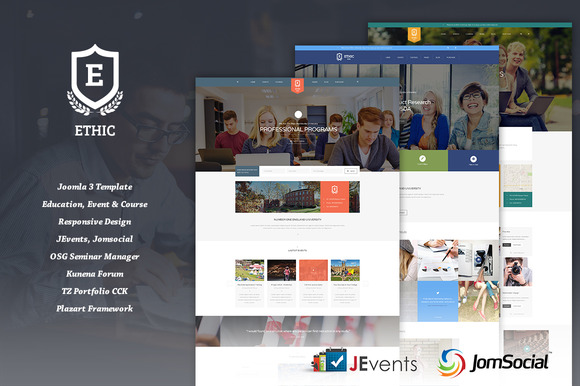 Ethic is an educational Joomla! template which is suitable and perfect for universities, institutes, colleges and schools to have a dignified, respectable website project. Ethic is enhanced with custom demo content and 7 beautiful colored styles. Joomla 3.x version also comes with custom TZ Portfolio style.
Category: Joomla-Monster
Created on Friday, 02 October 2015 14:17
Impress the site visitors with this template design! It's addressed for sites of schools tools, any kind of kids education or presenting kids' talents - simply any site about children. The template is full of colors that gives the energy power. It includes tons of module suffixes of many modules designs as well as useful badges for all modules!
Category: JoomShaper
Created on Friday, 29 May 2015 17:22
Varsita is a multipurpose Joomla 3.4 template for all kinds of schools, universities, courses and education business. It's beautiful, clean, modern and looks professional. We built this layout specifically for educational institutions, training organizations and include easy to use customization features. We build something awesome that helps schools, faculty members, and students. We believe that building a any business website can be easy and fun with Varsita. Inside Quickstart you will find also our new SP LMS extension with component and module. It means ready to use basic Learning Management System.
Category: GavickPro
Created on Friday, 24 April 2015 16:22
This stunning theme is perfect for colleges and schools to have a dignified, respectable website that's also packed with modern web-development tricks and social features to provide a informative, contemporary experience for students and staff alike.
Category: OrdaSoft
Created on Wednesday, 15 April 2015 21:53
This day has come when you can not only admire the screenshots of EducationStreem, but also see how our awesome Joomla education template works in reality! In EducationStreem template we have gathered all the best of OrdaSoft Joomla extensions. You'll see our universal Joomla Blank Template, our awesome OS Responsive Image Gallery and Book Library. Also we included widely known and loved by all users K2 blog, through which you'll be able to do your blog.
Category: ThemeXpert
Created on Wednesday, 01 April 2015 15:30
EduXpert comes with majestic layout with trendy and clean design. The template has extensively and exclusively crafted for educational and online course portal for Joomla. EduXpert is well-equipped with an extended support of GURU (Learning Management System) and JomSocial. Along with K2, Easyblog, custom pages and maximum presets, you can start your online educational Joomla website anytime, anywhere.
Friends
All4Share

ALL4SHARE.NET - Free Download Full Code, Nulled Scripts, Premium Themes